DWASA job circular 2022: Manpower will be recruited for the vacant posts of Dhaka Water Supply and Sewerage Authority (Dhaka WASA). Dhaka WASA will appoint a total of 08 people in 3 posts. Both men and women can apply for these posts. Interested candidates can apply online. Candidates from all districts have the opportunity to apply for this job. Full notification (dhaka wasa job circular 2022) details are given. To be the first to read all government and private job news, visit our job news page.
Dhaka wasa job circular 2022
Position Name: Assistant Programmer
Number of posts: 03
Educational Qualification: Bachelor (Honors) or equivalent in Computer Science / Computer Science and Engineering / Electrical and Electronics Engineering / Information and Communication Technology.
Position Name: Health Officer
Number of posts: 01
Educational Qualification: At least MBB from any recognized University / Institution. S degree holder.
Position Name: Nurse / Medical Attendant
Number of posts: 02
Educational Qualification: Passed SSC. Medical Diploma or Nursing Diploma Certificate.
Interested candidates Dhaka WASA web site www.dwasa.org.bd You have to apply online. You have to apply online by 09 June 2022.
See the official notice for details: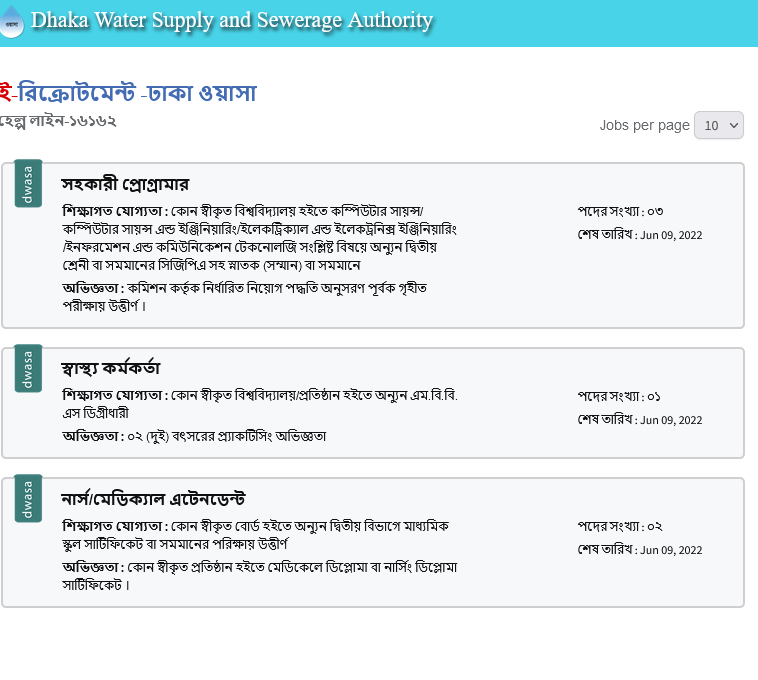 If you have any questions or are interested to know, you can ask questions by clicking the Ask button below.
Ask
To read news of all government and private jobs, visit our job news page.
New Jobs News Everyone Before To get
Post Related Things: bd job today, new job circular 2022, Job News Prothom Alo, Government Job News, Job Market, Today's Job News, Recruitment Notification 2022, Job Post, Today's Job Magazine, Job Magazine Today, Recruitment Notice 2022 , daily education, job news magazine, job news 2022, job news apk, job news bd jobs, job post magazine, job recruitment notification, job news.com, daily job news, e job news, job news govt, job recruitment notice 2022 , Job Recruitment Notice, Job Recruitment Notification 2022, Job Recruitment Notice, new Job News, Job News Paper, Job News Magazine, Job Market Magazine, Weekly Job Magazine