BHTPA Job Circular 2022
BHTPA Job Circular 2022 : Bangladesh Hi-Tech Park Authority has issued recruitment circular for recruitment of manpower. The company will employ a total of 01 person in 1 post. Both men and women can apply for the posts. Interested candidates can apply online. You can also apply if you have interest and qualifications. Full notification details are given.
Bangladesh High Tech Park Job Circular 2022
Position Name: Computer Typist plus Office Assistant
Number of posts: 01
Educational Qualification: Bachelor's or equivalent degree.
Other Qualifications: Speed ​​of words per minute in computer typing 20 and 20 words in Bengali and English respectively.
Salary Scale: 9,300 – 22,490 taka.
Application Process: Interested candidates should apply through this website https://erecruitment.bcc.gov.bd.
Application start time: Applications can be submitted from 10:00 am on June 22, 2022.
Application deadline: Applications can be submitted till 05:00 pm on July 26, 2022.
See the official notice for details: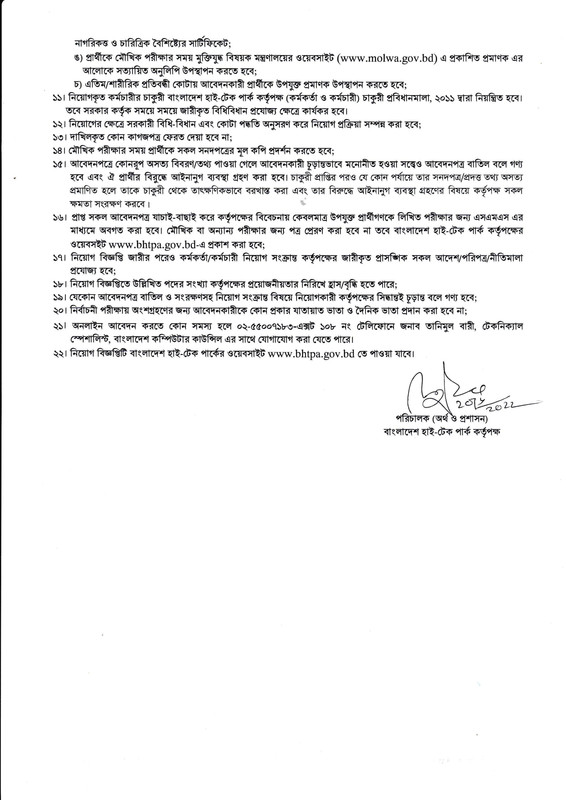 If you have questions or are interested to know about any topic, you can ask questions by clicking the Ask button below.
Ask
Visit our job news page to read all government and private job news.
New Jobs News Everyone Before To get
Post Related Things: Ministry of Public Administration Recruitment, Job News, Job News 2022, Job Magazine Today, Today's Job News, Today's Job News, Job Magazine, Job News, bd govt jobs, all jobs bd newspaper, Job News 2022 Government, Government Job News , Job News Prothom Alo, Job Market, Today's Job News, Job Post, Job MagazineToday, Recruitment Notice, Recruitment Notice 2022, Recruitment Notice 2022, daily education, Job News Magazine, Job News 2022 Government, Job News 2022, Job News apk, Job News bd jobs, Job News.com, Weekly Job News.com, Weekly Job News